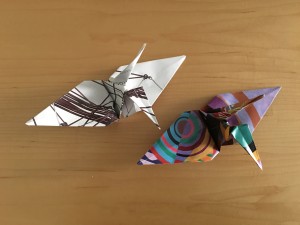 I've reached 3,000 origami cranes.
Some people watch TV. Some surf the internet, or the ocean. Some play video games, or even FreeRice. I fold origami cranes, and give them away.
Four years ago this weekend, I took my first origami class in a tiny paper store in Albuquerque. And today, I just finished folding origami crane number 3000.
I tried to learn to fold origami cranes from Youtube, but only when I went to that live, hands-on class did this 26-fold process really fill in for me.
The nurse Mrs. Martello, in Eudora Welty's "The Optomist's Daughter" crochets baby bootees. Direct from the book: "You'd be surprised how fast I give out of 'em…" she said. "It's the most popular present there is."
I could say the same for giving away origami cranes.
A woman sitting on the seat on her walker enjoying the sunshine on the street in front of her building receives a crane from me with her two hands, looks up and smiles.
Like crocheting, folding paper calms the central nervous system. And everyone wants a crane or two. Even strangers on the street.
Sherm bought me a subscription to the magazine Art News last year. It's my first magazine subscription that's not digital. There's something about seeing the art in print (that you'll never see in person anyway) as opposed to in pixels.
Those pages are so colorful and amazing that I couldn't throw the magazines into the recycling bag. I began folding them for my origami project. One crane had Gandhi on it, from a photograph. Another, a Robert Motherwell reproduction. One or two with art by Yoko Ono. And so on.
Recycle, or upcycle? Both? Hey, those beautiful pages make lovely origami. Most magazines are printed on glossy paper too tenuous to fold. Lately, another favorite of mine to fold is Edible Magazine. Lovely paper for folding, with great colors.